Esoteric Freemasonry: Rituals & Practices for a Deeper Understanding
April 11, 2021 @ 7:00 pm

-

9:00 pm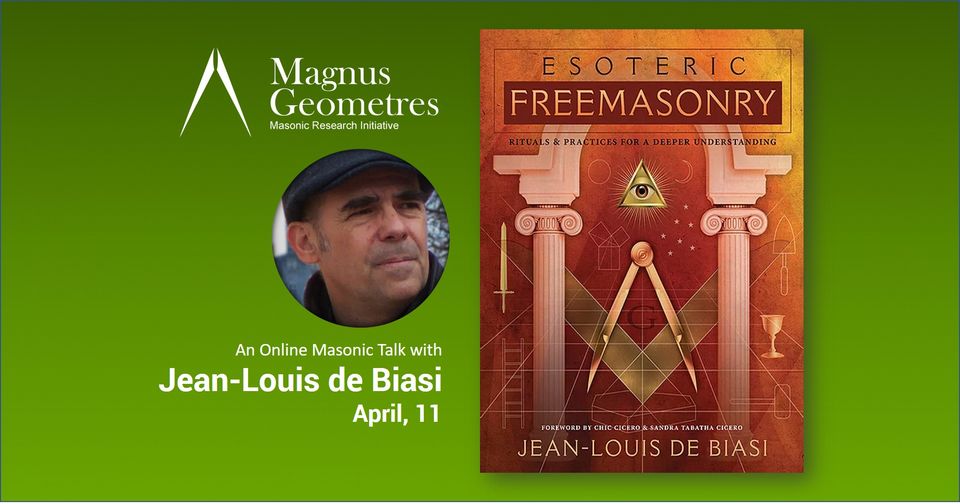 TALK SYNOPSIS
Freemasonry is too often explained from its historical background. It is common to speak about Masonic rituals, symbols, and secrets even if everything has already been published for a very long time.
However, there is another aspect to this great fraternity and it is referred to as the Esoteric side of the Craft.
From the inception of Freemasonry, masons interested by esotericism and Hermeticism have created specific rituals, Higher Degrees, and other practices. This is the case for the famous "Egyptian Freemasonry."
Freemasonry can be a real initiatory tradition and offer efficient spiritual practices if two essential things are achieved: 1- Find the humility to recognize the obstacles created by the masonic institution; 2- Understand the nature, challenges, and power of esoteric Freemasonry.
In this presentation Jean-Louis de Biasi will follow the book, using excerpts from it, to highlight the real roots of this tradition and what can be individually practised to achieve a real inner transformation.
ABOUT JEAN-LOUIS DE BIASI
Jean-Louis de Biasi, Internet Lodge, No 9659, Province of East Lancashire, United Grand Lodge of England
.Jean-Louis de Biasi (Las Vegas, NV) is an author, lecturer, and philosopher. He has been initiated into the highest degrees of Freemasonry. He is a 32° Scottish Rite Freemason (Southern Jurisdiction, U.S.) and Royal Arch Mason. Before joining American Freemasonry, he received the highest degrees of Egyptian Freemasonry (33°-95°-AA). He is the head of two famous initiatory Orders. (
www.deBiasi.org.
)